Binoculars versus spotting scopes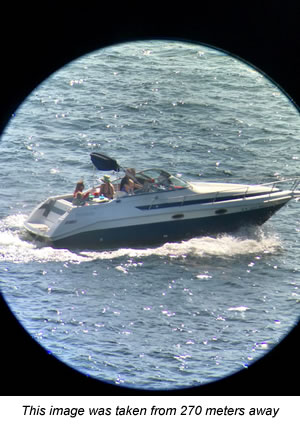 I recently treated myself to a spotting scope as my birthday present. It is something you would use to look at objects from a long distance, particularly animals or birds, and it really allows you to see clearly over considerably longer distances than a pair of binoculars would. It differs from a telescope, which is more suited to see things at night, but you could if you wanted, use it to look at the moon and stars, etc – but that is not what it is designed for. There is even a form of photography now where people specialise in taking those types of long distance photographs and attaching their cameras to the spotting scopes. That type of photography is known as digiscoping and what was surprising for me, and I know quite a bit about cameras and photography, is that many of those close-up photographs that you see of birds and small animals are not actually taken with zoom lenses – they are taken by attaching the camera to a spotting scope – or in other words, a super powered pair of binoculars.
The detail you can see, on something a mile away, is quite dramatic but not exactly the stuff that top photographs are made of. Training it on a tree, about 100 metres away, will give you stunning clarity of the pines, bark, cones and any bird sitting on the tree as well. Obviously, to use something like this, as with good photography, requires a tripod. You cannot possibly train something over such a distance on an object and keep it as still as you need to without a tripod.



Trotting versus running
When I was younger and more people knew that I did a lot of running, I often used to get questions about running. One of the most common was, "I run all the time, but I don't really lose weight". It is hard to find a polite way to tell somebody that instead of running they are just trotting along.
I was reminded of this recently when I spent a bit of time on an athletics track and decided to run some 50 metre sprints as well as 400 metre times. I was shocked to discover that the 57.5 seconds that I could run 400 metres in, and I was not truly fit at that time when I was 16 or 17, has suddenly become 80 seconds – in other words, I am almost half a minute slower. When you do run like that however, you very quickly realise how sore that type of running actually is. Your legs ache, your lungs burn and you collapse as you go over the finish line because you have given it your all. It is exercise where you give it your all, where you push yourself, where you hurt yourself and it leads to progress and development and if you merely trot along you will not achieve very much at all.
I think trotting along is better than doing nothing – maybe it will improve your lung function by 20%, but you are not going to ever get the benefits that everyone talks about that you get when you run. I don't think that is different though to anything – if you go and lift weights, the only way your muscles will get stronger and certainly bigger, is if you lift a high enough weight to tear your muscle. I am sure that is where the expression, "No pain, no gain" comes from – but it is absolutely true. If the exercise you are doing is something that is not hurting you very much at all, then it means you are not really challenging yourself and you are not really achieving anything. Yes, I think it is better to trot than to just walk and it is better to walk than just to sit, but if you want to try and see what it feels like to run, go to a track and try and run 400 metres as fast as you can, so that when you finish it you, as I did, lie down on your back on the track before you recover and then you will know what it is truly like to actually run!



Socks I love – Stance
I love the weird and wonderful socks designed by Stance. In this particular article I have included a copy of the image of that of the Stance rugby sock, which is designed by Mark Gonzales. You will see they don't match and Stance have no regard to traditional patterns in that regard!
I really do find the whole look fascinating and Stance has numerous socks of different designs – not always consistent and some of them are extremely arty or related to different Universities. They also have a range of Disney socks, Star Wars socks with all sorts of different characters and you might have the one character on the one sock and another character on another sock. Strangely enough, I started wearing these socks because their golf socks have a grip on the bottom of the sock that allows it to keep its position in your show a way that very few socks do – in other words, they don't slide as much within the shoe while you are wearing them as other socks would.



Big day as Parliament votes
It's a very big day in South Africa today with the secret vote taking place in parliament. I personally didn't think that a secret vote would be allowed, and so that's the first surprise. Is that a sign of extreme confidence that very few ANC members will actually vote against the President? I don't know, and given that almost all the media predicted that the vote would not be secret, it seems even those in the "know" didn't know!
Whether approximately 50 members of the ANC are going to vote against the president remains to be seen but either way, it's a big day in South Africa.
I'd love to know your prediction, as to how the vote is going to go today and whether or not the motion of no-confidence in the state president will succeed?



Moving and setting up new computers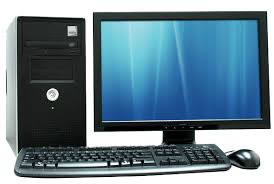 I was reminded recently of two of my pet peeves, namely moving and setting up new computers. I recently got myself a new computer, which is more suitable for some of the photographs and video editing that I work on, because my last computer was not strong enough to process even short family videos. It is not just plugging in the new computer and setting it up – it is the fact that suddenly you don't actually have Microsoft Word, you don't have Outlook, etc and all of them have to first be downloaded and when you are finished downloading them, then they need to be set up. Just going on to another computer and eventually working out all the settings on my e-mail account and setting that up took 30 minutes alone. Then I had to download the rest of the Microsoft package and the Adobe programmes that I use, including Photoshop and Premiere Pro.
When you leave all of that aside, every time you go onto any website, you now have to enter in all your passwords again and set your computer to remember some of those sites and so all in all it is a mountain of work to do. I have resolved not to upgrade or change a computer for at least another 3 or 4 years – maybe 5 – until I have forgotten about how painful it has been this time!



Working longer hours
No sooner did I finish reading my book about Mark Cuban, than I listened to a podcast about some American vendors who sell snacks at baseball games. Mark Cuban had emphasised how he felt he simply put in more hours than other people and the podcast I listened to, which was extremely interesting, pretty much said the same thing. You can download the podcast here: http://www.npr.org/sections/money/2016/05/06/477082513/episode-700-peanuts-and-cracker-jack
It is something you can listen to on the way to or from work and it is about guys that work at a baseball stadium, which would be no different to the guys selling at the cricket or rugby stadiums in South Africa, and features a new young guy who has just started together with the guy who is meant to be the main sales person – the best guy. They wanted to see what the best guy's secret to making the most money was and they eventually realised that it was not actually about some amazing sales ability he had. At the end of the night, by the time the young guy had already gone home and most of the other 50 odd vendors have given up, the number one success basically ran around the whole stadium selling things – being the last guy in the stadium from who you could buy anything. In other words, just like Mark Cuban's book, they said that really, it got down to the guy who was working the longest hours and putting in the most effort.
That of course does not suit everybody, and various things that happen in our lives, such as having children, other responsibilities, or sick parents that one has to care for, ultimately determine the kind of hours you can put in. It does however serve to remind all of us, and indeed me, that one of the ingredients to success is not that complicated – it is just hard work. People want to believe there is some other secret recipe, there is something you can read that will let you cut the hours down, but I can tell you from my own experience and in my own offices that invariably the most successful people in my firm are those that work the longest hours. Over the years if anybody has ever asked me about the hours I put in my answer has always been quite constant – I work longer hours than anybody who works for me. That is absolutely the truth. There are times now, in my 22nd year of practice, where I don't put in the hours that I used to, which was at least 60 hours a week, but invariably, and even if I fall behind during the week or because I am managing other businesses and investments of mine, I put in the hours on a weekend. I have always prided myself on the fact that, just like my mother, hard work has never ever frightened me.
For example, you would never hear me say that I don't work on Saturday or Sunday or that the weekend is not for working – because I don't believe that.
It is interesting to hear, whether it is the billionaire Mark Cuban, or it is the guy selling at the baseball stadium, that often the secret recipe to success that so many people are looking for is simply just putting in the extra hours. That is not an answer that many people want to hear, but it is so true.



Mark Cuban – Shark Tank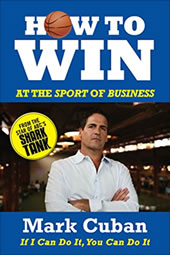 Mark Cuban is the billionaire who appears on the CNBC TV show Shark Tank and I recently finished an abbreviated version of his book, "How to win at the sport of business". The one thing he did emphasise is that basically you don't get anywhere without working hard. To that end, he recommends reading, reading and more reading – something that I have always pushed my staff and everybody I know on. As he says, talking about hard work, "Sweat equity is the most valuable equity there is. Know your business and industry better than anyone else in the world."
He goes on to say that you need to have staff who are as passionate about your business as you are and who are as keen to deliver top service as you are. Without the client's you cannot achieve anything and I do my very best to root out any staff in my office who I don't believe are passionate, either about working or the job that they do. I would like to believe that the vast majority of my staff, if not the overwhelming majority of my staff, are extremely motivated about the work they do in helping people whose lives, in some cases, have been devastated. I am very proud of the team that I have and it is no wonder that staff who have worked at other firms, or have left us and returned to our firm, say that the quality of work that we do and the passion that our employees have for the work, simply cannot be matched at other firms.



True Religion files for bankruptcy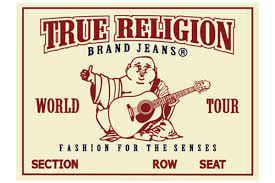 Readers of my blog will remember I have detailed jeans in the jean market before and the fact that I really never thought True Religion was well designed jeans. I know that they are popular here in South Africa, but their popularity has been going downhill in many other countries for many years and obviously filing for bankruptcy tells you how bad things have become. Apparently, this is largely because of women in particular are moving to wearing leggings and to yoga pants – they say those types of pants which typically retail at about $89 or $98 are far better value than the jeans at $300. Some jeans are benefiting though, Levi's in particular, which are considered a cheaper brand of jeans, are doing better than before but the premium, more expensive jeans such as 7 For All Mankind and Hudson fell 8% last year. Men apparently favour Levi's and women apparently tend to favour denim from economy brands like H&M, Old Navy and Forever 21.



Global warming
It is amazing how, despite the fact that year after year we see higher temperatures, many people still deny global warming. In fact, the Republicans in the American government now make it one of the basic beliefs of their party not to admit that there is such a thing as global warming. Sometimes they concede the temperatures are warming, but they say it is not because of man.
Around the world we are starting to see more and more bizarre weather and weather patterns. It is clear that something is amiss with the weather, and it will become more and more difficult for people to stay in places that are really hot. If this trend does continue, and if you believe in science you will know it is going to continue, then people will find it far more attractive to move to areas which are now cooler. In the meantime, we all have to, in our own way, start seeing what we can do about the environment and the way we are living. There are plenty of things that one can do - beginning with recycling your rubbish, minimising your wastage and packaging materials and pushing politicians to adopt more environmentally friendly laws. The fact of the matter is we all have something invested in this – not only the future of our children, but the value of our houses. If temperatures continue the way they are, people may not want to live in Johannesburg in summer in 20 years' time!



Boeing to retire the 747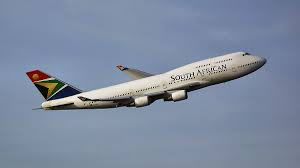 The 747 was the first plane to be known as a "Jumbo Jet", but Boeing has decided its days are over. Apparently, because it uses four engines it is much more expensive to operate than most of the twin jet aeroplanes that are used these days and there is very little interest in the plane anymore, with most airlines retiring their 747's.
Boeing's new plane, which they expect to be far more popular, is the 777X. This will seat between 350 to 425 passengers and is set to debut in 2020. It has the largest jet engines ever developed by the aerospace industry and 7 different airlines have ordered 340 of the planes. The big selling point of this plane is that it is the most fuel efficient plane ever, using about 12% less fuel per seat on the plane than any other competing plane according to Boeing. It is also going to be wider than the current planes in use and will be able to take passengers more easily on long haul flights. I am still waiting for technology to improve a little bit more, so that long international flights reduce in duration – in other words, take less time!



What sort of tip is reasonable?
I started my working career in a variety of interesting jobs, beginning first with the Checkers in Sandton City where I was a cashier and later I worked in the fruit & veggie department. Subsequently I worked at Absa Bank in Rosebank, and also later as a waiter at Spur in Randburg – I should tell the story as to how I had to sue the branch, who settled with me on my terms, after the manageress tried to cheat me on my commission. Anyway, that is for another day, because what I am writing about today is what some people refer to as gratuities and we generally call it tips or tipping.
As somebody who worked in restaurants, I know how important tips are and I have always taken an attitude that, whether I am at a restaurant, or I am putting petrol in my car, I should tip. I generally give R10 when filling up my car with petrol, which I think is probably more generous than most people, but I strongly believe that if you are mean you will struggle to do well in life. I have often observed that people who are generally generous have their generosity flowing back to them. In other words, I honestly believe if you don't tip, or are not generous, it will cost you in the end.
Having said that, it is interesting that in different cultures tipping is either frowned upon or accepted and the amounts vary considerably. For example, in South Africa, if you are pleased with the service you have received you would give somebody 10% and possibly a little bit more. If you gave somebody 10% in America it would either be a sign that you are living in poverty or that you are absolutely disgusted with the service. Most restaurants in the USA would provide on your bill, which they call a check, a calculation of what an 18% tip is, a 20% and a 22% tip. In other words, if you think the service is decent you are meant to give 20% and if you think it was really great then you should give 22%! I think there would be a lot more people in South Africa interested in being a waiter if that is the amount that people tipped!



Your best holiday you have been on
I would love to know what you think is the best holiday you have gone on or what type of holiday you prefer to go on the most. I have some staff members who have travelled to far more countries of the world than I have and I have done all sorts of holidays ranging from cheap holidays to very expensive holidays. In fact, one or two years into my law practice I booked a tent in Kruger Park that could sleep 4 people and if I remember correctly the cost was R100 a night – probably the equivalent of about R400 a night now, or maybe less than that, and as the holiday got close I realised I could not afford it.
I spoke to my girlfriend and she arranged her sister and her boyfriend to come with us on the trip so as to cut our cost down to R50! I can honestly say that the over 100+ nights I spent in Kruger Park are some of the best and most relaxing times of my life and I have always loved Kruger although I dread the drive home.
Anybody who has children will tell you that it is very hard to beat any destination that either has a swimming pool with lots of other kids in it or the beach – and the great thing about the beach is that beach holidays are generally pretty cheap unless of course you are choosing some fancy beach in Cape Town, which is pretty pointless with kids anyway, because they cannot swim in that freezing water! I also loved holidays that I took with my family when I was about 10 to 13 years old where we used to go to the mountains quite often. There is something about the mountains, the thinner air, etc that I love, and recently I went on a skiing holiday for the first time in my life. I touched snow for the first time in my life probably only about 4 years ago and to have a white Christmas was tremendously exciting for me and my children.
It is amazing for me that I first got to touch snow when I was approximately 43 or 44 years old and yet my kids have done it at the age of 6. At the end of the day, I think that travel, relatively speaking, has actually gotten cheaper over the years in terms of air flights, etc, and I came from a very middleclass family where there were times for example we could not afford to eat meat and had vegetarian meals only for about three months. It is not something I am embarrassed about at all – I think coming from less has always made me work harder than those who come from more. There is also a saying, which is quite true as well in my opinion, that money cannot buy class and likewise, you don't need to have money to have class.





Johannesburg based attorney specializing in personal injury matters including Road Accident Fund claims and medical negligence matters. My interests include golf, reading and the internet and the way it is constantly developing. I have a passion for life and a desire for less stress!

Have you been injured in a motor accident?

Recent Settlements
Lumbar spine compression fractures
R2 500 000.00
Severe hip fracture requiring total hip replacements
R3 305 000.00
Head injury with disfiguring facial scaring of a young female
R4 000 000.00
Whiplash and compression fracture of the spine
R4 000 000.00
Broken Femora
R1 914 416.00
Broken Femur and Patella
R770 881.15
Loss of Support for two minor children
R2 649 968.00
Fracture of the right Humerus, fracture of the pubi rami, abdominal injuries, head injury
R4 613 352.95
Fracture of the right femur, Fracture of the right tibia-fibula
R1 200 000.00
Broken Jaw, Right Shoulder Injury, Mild head injury
R1 100 000.00
Degloving injuries to the hips, legs and ankle
R877 773.00
Head injury
R 2 734 295.12
Fractured pelvis
R1 355 881.53
Damaged tendons in left arm
R679 688.03
Fractured left hand
R692 164.48
Amputated right lower leg with loss of income
R3 921 000.00
Fractured left foot
R600 000.00
Head injury and multiple facial fractures
R5 000 000.00
Head injury, compound fracture right femur, right tib and fib fracture, and injury to the spleen
R4 529 672.06
Head injury, multiple facial fractures, collapsed lung and a fracture to the right frontal bone
R2 890 592.77
Loss of support
R5 144 000.00