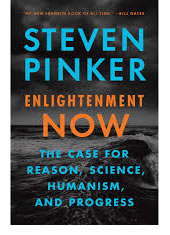 Enlightenment Now is similar to other books that I reviewed on my blog, in terms of its view of how we live now compared to the past. There are so many people who think that society has not improved, things have gotten worse, even though factually that is absolute nonsense. The book goes into great detail as to how society has improved and how, for example, 86% of people when surveyed consider themselves somewhat happy or very happy whereas, if you ask other people how many of the people around them are happy, they estimate that at 44%. In other words, most people make the mistake of thinking people around us are unhappier than in fact they are.
I will not go into all the details, because they are covered in this book and in other books, but by way of example, basically 200 years ago only 12% of people could read, the average person lived until the age of 30 and you were not considered poor as long as your family had a loaf of bread! Nowadays, as he writes, people complain that their aeroplane waited on the runway for 45 minutes and they were delayed. People are very upset about that, but they don't stop to think that they no longer walk on the side of the road next to their donkey with pots clanging on the donkey's side! We have air travel, high definition TV's, Internet, we can read, we earn more than human beings ever did before and more leisure time, etc. People have mystical memories of the "happy and better" times when we ploughed the land and lived on the land forgetting that generally that job was given to women, it was absolutely back-breaking work and the second that jobs became available in factories as many women who could, got off the farms and into the factories rather than to actually do farm labour for a minimal reward.
Yes, human beings still whine, complain and think that things could be better, and perhaps that is why we progress all the time, but we must never delude ourselves. We are living in the greatest times in history when a small fraction of people die for the same reasons they used to die – whether it is the murder rate, wars, starvation or malnutrition, etc. More than 90% of the world's population used to live in poverty. Today it is 10% and declining and it is really confined to one or two African countries like the Congo. In that regard we forget about other ways that life is better - for example that young South African men no longer have to go and spend 2 years in the Army doing compulsory military service. Lets remind ourselves how many people ran away from South Africa to avoid that compulsory military service, including my cousins who left for Australia approximately some 35 years ago rather than have my cousin forced to be conscripted into the apartheid Army.