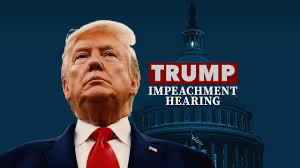 I have no idea how the impeachment proceedings in the USA are going to turn out. It is fascinating however watching them from the perspective of a lawyer where you watch one side make great points and the other side, who don't have much to say, will pretend that those points were not made.
The media cover this by using a good legal adage which I thought is relevant considering that I am in law. The lawyers say that if the facts are on your side then you must pound on the facts and repeat them again and again. If the law is in your side, then you must pound on the law. If neither the facts nor the law is in your favour, then what you need to do is pound on the table and express outrage.
That is pretty much what has been going on in the hearings so far from the one side and it is interesting for lawyers, especially those who go to court all the time, to observe that in action – how people without the facts or the law in their favour can still make it sound awfully good, just by pounding on the table and screaming outrage on anything they can think of, normally being procedure and insisting that the procedure is not fair!