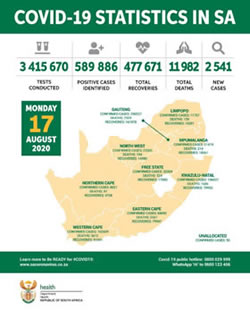 It is fascinating to see the various statistics that come out each and every day and of course, a blog is going to be outdated pretty quickly. We currently have 590,000 cases in SA with a total of 12,000 deaths.
We need to compare that to other causes of death in SA, including guns and violence and specifically to motor accidents - which result in approximately 14,000 deaths a year. In America, Covid-19 is already the third leading cause of death for the year, but many people would have thought it would be the leading cause. Cancer and heart disease still kill more people in America than Covid-19 does even though, at the time of writing this, it had killed 170,000 Americans and infected 5,4 million.
How many people are killed will depend on how soon a vaccine becomes available and by available I mean available to you and me – not just to people in special risk groups, politicians and sports people and celebrities who will all no doubt get it before the rest of us.