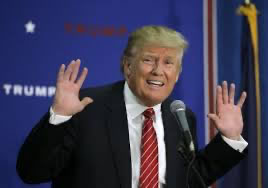 In 2016 I wrote quite a lot about the elections and I saw Donald as a very real threat to Hillary Clinton for a long time. I would not have written about it as much as I did if I did not see him as a threat. His win was unexpected, but not the massive shock that he makes out – it is never really a shock in a 2 horse race if the lesser favourite of the two horses wins.
I think that those who think he is going to repeat it again because he has some magical powers are making two mistakes. Firstly, it is clear that his business skills have really been overrated – as many have said, it appears that he plays a businessman on TV as opposed to actually ever being a successful businessman. If he had simply invested his father's money that he inherited in the S&P Index Fund, the main Stock market index that investors follow, he would have made more money than he is worth now – and that is not a compliment. That would be 7% or 8% a year and most people who run their own businesses do not make only 7% or 8% a year over the long run. There would be no benefit to running private businesses if you could only match what the Stock Market could do – you would then just put your money into shares and sit at home and do no work. So, the whole superstar businessman story is total nonsense. I am not saying he is not a brilliant marketer and has convinced many people that he is a star businessman, but that is marketing as opposed to being the brilliant businessman.
The other mistake I think they are making is that people are tired of the division that he has brought. They are tired of his lack of empathy for people and all of that has been very well illustrated during the whole Covid-19 issue. The fact of the matter is America has not done well in dealing with Covid-19 and largely it has been because of the leadership of Donald Trump, a man who even after getting Covid-19 still mocks masks and says they are not really effective. One wonders how many people have died, while listening to the President of America, who really just talks nonsense either to appeal to his base or perhaps, mistakenly, because he is just not very bright and has not studied any of the signs. In that regard, he is surrounded by top scientists but he has replaced the advice of Dr Fauci with a radiologist. So, right now, the President of America is advised, when it comes to viruses, not by a doctor who specialises in viruses but by a person who specialises in reading X-rays!