National Health Insurance
I was a bit surprised to hear the Health Minister, Zweli Mkhize, attack the critics of the NHI by saying it will be run as well as the Road Accident Fund. I don't think that the Road Accident Fund is particularly well-run, but Minister Mkhize cites it as an example as to the government's ability to run the new proposed NHI as "… they have set a precedent of good governance and accountability."
I have expressed my opinion many times and that is that one of the reasons the Road Accident Fund has the financial issues that it does is precisely because of the way it is mismanaged, with ever increasing staff numbers who do not actually make settlement offers in cases where clearly they should. I feel terribly sorry for anybody who has to submit claims to the NHI if it is going to be dealt with on the same basis that claims handlers in the Road Accident Fund deal with claims - by just outsourcing them to their attorneys! A lot of people – and doctors - are not going to be paid within reasonable times and I wonder how happy medical professionals will be then to see NHI patients? I foresee tremendous problems if the NHI is going to run "as well as" the RAF!



Inflation coming under control
It has been tremendous to watch the inflation rate really come down steadily over the last few years. Inflation obviously measures what we are paying for food, mortgage bonds and general day-to-day expenses relative to one year ago. South Africa had some very high inflation rates in the past, but in recent years it came down first to about 6% and then slowly headed lower. Right now, it is currently at 3,6% and consensus is for it to dip to 3,4% over the next 2 or 3 months.



Pete Buttigieg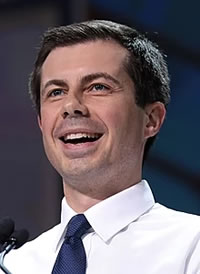 Pete Buttigieg is currently, if you focus on the national polls only, coming round about third or fourth in the Democratic field to see who will take on Donald Trump next year. He is running behind Joe Biden, Elizabeth Warren and running again, and probably not going to win again this time either, Bernie Sanders. What a lot of people don't know is if Bernie Sanders' supporters all voted for Hillary Clinton, who was the Democratic Party candidate that beat him in the last election, so she could run against Donald Trump that she would have won. In other words, a lot of people who said they were voting for Bernie Sanders of the Democratic Party, once they were influenced, including by fake Russian adverts, voted for Donald Trump of the opposite party instead.
The candidate that has impressed me the most in the debate so far is Pete Buttigieg and he has been the Mayor of a decent sized town. He is currently leading in the Iowa polls, which is the first State that he will compete in, but he is not leading in the national polls at the moment and is not the favourite to be chosen as the candidate for the Democratic Party. I think he is an excellent debater and he is precisely the kind of politician I would have been – because politics is something I always wanted to get into. There is one big catch and that is whether the predominantly male voters who voted for Donald Trump prepared to swap their votes to a gay man who is married to his partner? Is America ready for that? To me he is the clear standout choice in the democratic field, but I guess that that worries a lot of supporters. I am going to hope and bet (you can actually fairly easily take bets on election results) that they are ready. Incidentally, a recent poll indicated that 61% of women in America favour the impeachment and immediate removal from office of Donald Trump. The figure for men was either 40% or 41%, leaving the national poll at 50% currently in favour of his impeachment and approximately 43% against it with the rest being undecided. In other words, Donald Trump has a very big problem ahead of him in the 2020 election in getting women voters on his side when most women who live in cities have turned totally against him.



Improving SARS
I read recently that we face a possible tax revenue shortfall of somewhere between R50 billion at the end of this tax year in terms of tax collected. Probably, to some extent, this is due to South Africa's weak economic growth, but it is also, I think, due to people cheating on tax and I recall a large number of people living at both Dainfern and Blair Atholl boasting about how they did not pay tax or did not pay the tax they should. The other problem is that the new Commissioner of SARS, Edward Kieswetter, has taken over an organisation that has deliberately weakened during the last decade or so by the previous administration of Jacob Zuma. Apparently, amongst other things, there is an under-staffing at SARS of about 1,000 staff. SARS lost lots of good staff and the morale is apparently very low.
I have always said what SARS really need to do is to start using technology in a more intelligent way. There are so many people who are living in houses that, according to their salaries or business profits, they could never afford, and that type of information would not take much effort to collect from estate agents and the like. It would be simple to require that anytime you buy a car or a house that the seller/agent should have to file a one-page form, like they do in many countries, as to purchase price and the stated income of the buyer. That would stop people telling SARS they earn almost nothing while telling the bank, from whom they want a loan, the real figures. There is a lot of rebuilding that needs to be done and the sooner it is done the better because otherwise the rest of us will be facing increases in the tax we have to pay because others aren't paying their fair share.



Click here to return to the blog home page (latest 12 items).



Johannesburg based attorney specializing in personal injury matters including Road Accident Fund claims and medical negligence matters. My interests include golf, reading and the internet and the way it is constantly developing. I have a passion for life and a desire for less stress!

Have you been injured in a motor accident?

Recent Settlements
Lumbar spine compression fractures
R2 500 000.00
Severe hip fracture requiring total hip replacements
R3 305 000.00
Head injury with disfiguring facial scaring of a young female
R4 000 000.00
Whiplash and compression fracture of the spine
R4 000 000.00
Broken Femora
R1 914 416.00
Broken Femur and Patella
R770 881.15
Loss of Support for two minor children
R2 649 968.00
Fracture of the right Humerus, fracture of the pubi rami, abdominal injuries, head injury
R4 613 352.95
Fracture of the right femur, Fracture of the right tibia-fibula
R1 200 000.00
Broken Jaw, Right Shoulder Injury, Mild head injury
R1 100 000.00
Degloving injuries to the hips, legs and ankle
R877 773.00
Head injury
R 2 734 295.12
Fractured pelvis
R1 355 881.53
Damaged tendons in left arm
R679 688.03
Fractured left hand
R692 164.48
Amputated right lower leg with loss of income
R3 921 000.00
Fractured left foot
R600 000.00
Head injury and multiple facial fractures
R5 000 000.00
Head injury, compound fracture right femur, right tib and fib fracture, and injury to the spleen
R4 529 672.06
Head injury, multiple facial fractures, collapsed lung and a fracture to the right frontal bone
R2 890 592.77
Loss of support
R5 144 000.00